Get Started with Aligned Autonomy
Last updated
Now that work is visible among teams in Planview AgilePlace, the next step in your Enterprise Agile Planning journey is to use the Planview Portfolios connectors to connect team delivery tools up into the portfolio. By surfacing detailed delivery data and status metrics from team tools in Planview Portfolios, the agile PMO can better understand how work is progressing at the portfolio level without having to drill down into the team tools to search for critical information. Most importantly, real-time status reporting enables the agile PMO to make accurate portfolio-level decisions and keep teams aligned to strategy.
Enabling the connection between team tools and portfolios also has benefits for the teams themselves. Teams can continue to enjoy the autonomy to work with their preferred methodologies and tools for delivering on strategy. With status reporting automated by the connector, team members are able to clearly communicate progress on connected work without having manually enter status metrics. Planview AgilePlace also provides a framework for facilitating coordinated delivery across teams, and enables teams to link their work with high level organization initiatives, so they can plan their work according to strategic objectives.
Planview Portfolios – AgilePlace Connector: Alignment Between Teams and Portfolios
The first critical step to aligned autonomy is setting up the connector from Planview Portfolios to AgilePlace, so that real-time information about work progress can flow up to the portfolio level. These status metrics can then inform portfolio-level decisions and align strategy to delivery.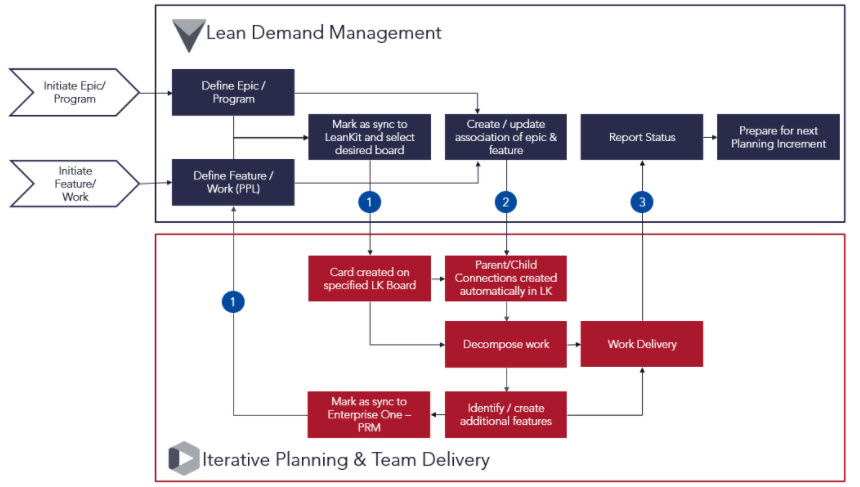 The connector is bi-directional and uses fixed, pre-defined data elements that sync between Planview Portfolios and AgilePlace. With the Planview Portfolios – AgilePlace connector, Planview Portfolios is the system of record for strategies and work items, while detailed work items are managed in AgilePlace. When strategies or work items are synchronized with AgilePlace, the connector converts the item to a card and adds it to the default drop lane of the selected AgilePlace board. AgilePlace cards can be synchronized with Planview Portfolios projects, so that when a card is created on a board, it is automatically converted to a work item that includes all details from the card.
To set up the connectors, first submit a customer care ticket requesting the connection to be enabled. Include the following information with your request:
The Planview Portfolios environment URL (for example, customer.pvcloud.com)
The Planview database name (for example, PROD)
The Planview AgilePlace account URL
Guided help is also available for configuring and using the connectors: