Embrace New Ways of Working with FLEX
Last updated
Your Path to Modernization
What's in it for you?
Team Foundation
You will have the ability to work in a single place and collaborate, update work status, and understand where work is in the process of completion. Showing work status to project leaders is simple - just show progress in the tool through visual Kanban boards and reports. It's simple and easy to get to work, instead of using complex or confusing spreadsheets or internal tools.
Connected Delivery
Though you receive benefits from using either or both work management solutions independently, connecting them with Enterprise One allows all collaboration to happen in one platform. Work flows into the team tools automatically from the PPM level and is pushed to the teams, so they can get to work easily. Any ad-hoc work requests the team receives flows up to the portfolio level for easy prioritization and decisions, without the need for meetings, emails, or IMs.
| | |
| --- | --- |
| Powerful analytics from work delivered in Team Kanban in Enterprise One | Powerful analytics from work delivered in Project Teams in Enterprise One |
| | |
Turn it on
Each team member will receive an activation email to complete the user setup for the chosen work management solution(s). Activate your account(s) to start getting benefits of managing work in Team Kanban and/or Project Teams!
| | |
| --- | --- |
| Activate an account to Team Kanban - powered by AgilePlace | Activate an account to Project Teams - powered by ProjectPlace |
| | |
Let's create a board in Team Kanban - powered by AgilePlace
The most important rule is to start using the board sooner rather than later - waiting until the "perfect" board is ready will only delay the benefits that come with using it. Instead, design the best board you can with the information you have, begin using it to gather feedback about your process, and continue to improve your process/board design based on your findings.
Click New Board on the Home screen to get your first board started, and use the guidelines in the collapsible sections below to help you with your first board design:
#1. Create a board
When creating a board, you have the option to use several available templates, or choose the default layout.

When creating from a template, you have the option to include cards from the template. These cards can be easily deleted later if needed.

Tip: If you aren't ready to launch your board to everyone yet, set the board's default security to No Access. When you're ready for others to collaborate on the board, you can either invite them individually, or update the default security to a lower level.
#2. Design the board layout
The vertical lanes of the board represent the process/progress each piece of work needs to go through from start to finish. Keep it simple at first - try to create as few vertical lanes as possible.

A good initial board design is to simply visualize what work is planned, currently being worked on, and completed. In the first example, the ice cream company visualizes the basic status of their orders.

You can always add more lanes later on, after the team is comfortable with managing work on the board. In the second example, the ice cream company wants to improve their productivity. They suspect that their freezer is too small and causing a delay in their production process. Therefore, they want to see how long their orders spend in each step of the process.

Tip: Always come back to the concept of "end in mind" while designing your board to make sure that its design answers critical questions about your work process. Doing so will remove unnecessary clutter and complexity from your board.

Use horizontal swimlanes to segment work that is going through similar processes, but needs to be separated to increase visibility for specific workflows or teams.

Use horizontal lanes sparingly to avoid the perception of a very complicated process. As the team becomes comfortable with the kanban concept, the layout of the board will naturally evolve with the team's needs over time.

In the example on the right, work is separated into Expedited, Standard, or Maintenance/Recurring swimlanes.

Tip: There are many ways to visualize work streams! Apply custom icons, tags, or card types to the board, then filter the board by those attributes.
#3. Define card attributes
Let's put it all together! Card attributes, when combined with a good board layout, will help you answer critical questions about your work processes. These attributes can be used to filter the board and create different views of information. There are many more card attributes than listed here (such as assignee, planned finish date, etc.) but here are a few to start with:
Card types to visually represent the different categories of work on the board. (Tip: Define your card types after creating your board, as it is the only field required to create a card in addition to card title.)
Custom icons can be added to the surface of each card to represent an attribute of the card. Feel free to use custom icons when you have identified a need. It is easy to use the bulk update feature to add custom icons to multiple cards at a later date.
Custom fields are another way to capture information for the work. You can have up to eight custom fields per board. Same as with custom icons, do not feel that you have to use custom fields immediately. Use them only when a specific need arises.
Tags allow you to assign multiple values to a single card. This expands your ability to track different information. (By contrast, card types, custom fields, and custom icons have a 1-to-1 relationship with each card. This means that you can only assign a single value of each type to each card.)
The size field allows you to assign a numeric value to a card. This can represent the size of the work, the quantity of an order, or any other numeric value.
Card headers are an optional visual that can highlight additional information (in the example below, the order number).
In this example, the Ice Cream team chose the following information for them to quickly identify and highlight specific orders. Here is what the icons on the card mean to the team, from left to right.

Star custom icon: A Champion customer that places an order every week.
Size of 25: This order is for 25 gallons of ice cream.
Date of Jul 28: The team uses this date to represent when the order must be shipped.
Additional tags for the orders: Include geographical information, so that the team can use it for additional reporting.
Red blocked X: Is used for the team to indicate that there is an issue with the production of this order.
Red exclamation point: Indicates that this is a critical order. For this team, this is a communication between the sales team and the production team on how to prioritize the order.

Users can hover over each icon to see any additional information provided (for example, the reason provided when the order is marked as blocked.)
Let's show progress on the board!
Team members invited to a board can use the general recommendations below to gain familiarity on how to find work assigned to them, and how to update the board to show their work progress. Be sure to communicate with your team members so that everyone understands the specific expectations on moving and updating cards.
#1. Review the board legend
The board legend helps you understand the different visuals on each card. For example, the color of the card is based on the card type, which can be different from one board to another. Custom icons (such as the "Customer Type" icon in the example below) can also be different for each board. However, some attributes (such as Priority and Date) are the same across all boards and cannot be changed.
#2. Review the board layout
The lanes on a board usually represent the workflow/progress/stages/steps of how work moves from its beginning to completion, from left to right. Be sure the team understands when a card is ready to be progressed from one lane to the next. This leads to the team becoming better at managing work, and being able to gather valuable information from the board analytics.
| | |
| --- | --- |
| This sample board is configured to support a straightforward process with vertical lanes to capture information for each key step. | |
| This sample board is designed for a different workflow, and you can see that when work is in-flight, it is divided into expedited versus standard work. | |
#3. Find assigned work
Use the Assigned Users board filter to find work assigned to you or to any user.

Tip: Use the Highlight/Show Only toggle when filtering the board! "Show Only" results in filtered cards appearing at the top of each lane (helpful on boards with lots of cards).

If you want to quickly compare how work is distributed among team members, the Assigned Users report will show you this information in real time!

If you want to see all your work assignments across all boards you collaborate on, click My Cards in the menu bar.

In My Cards + Tasks, use the dropdown menu to at the top of the panel to view cards/tasks that you have been assigned or subscribed to.

Use the tabs at the top of the panel to display work that has been started or not started. (Look at the blue and green lines above the lanes to determine started vs. not started cards.)

Tip: Click the action menu in the top right corner to sort the order in which cards are displayed.
#4. Add work and show progress
There are different ways to add a card to the board.

Click the Create a New Card menu on the menu bar.
Click the Default Drop Lane icon and send an email to the board to create a new card.
Right click anywhere on the board > Create Card.

There are also different ways to show progress for a card.

Click on a card to update information directly on the details screen. This include moving the card to a different lane to show progress.
Right click on a card to perform a select set of actions, including Move to a Lane to show progress.
The Edit menu also provides the ability to update most of the information on the card Details screen.

Tip: You can update multiple cards at the same time!

Hold the Ctrl key while selecting multiple cards.
Then right click to update select cards all at the same time.
Remember "end in mind"? After using the board for some time, the team may start to ask critical questions about their process, such as "Where in our process is work getting stuck?"

To answer this question, the team used a board filter to display cards that were not updated or did not move lanes for a certain number of days. Information about each update and movement of a card is stored automatically in its history.
Let's get the work from an Enterprise One project to the teams in Team Kanban
To use LeanKit for Connected Delivery, projects and work items on Enterprise One projects can be synchronized to Team Kanban for visualization and for the respective team to manage and deliver work.
#1. Sync projects and/or work items
Projects and work items of the project can be synchronized as cards on Team Kanban. In this way, teams collaborating in Team Kanban can manage the work in their preferred mode, and break larger work items down into smaller components as needed for the team. All work progress in Team Kanban will roll up to the Enterprise One project, so the organization is able to maintain a single source of truth for progress tracking and reporting.
From the Enterprise One project, set the following attributes as needed to create cards in Team Kanban:

Select the Sync with LeanKit attribute. The card will be created with the card type that matches the Execution Type in the selected Kanban Board.

Select the Import LeanKit Child Cards attribute if you want the connected child cards to be added as a work item on the work breakdown structure.
#2. View created card(s)
Depending on the configuration for your organization, a card will be created for the project, with work items that are synchronized with Enterprise One. The work items will be created as child cards to the project card on the board you had selected from the prior step.
Click on the Card ID in Enterprise One to view the Details screen of the card created for the project.
In the Child Cards gallery, we can see connected child cards, which are items in the work breakdown structure.
As the team manage their work, they can create additional work (cards) and it can be delivered by different teams. The board selector on the Details screen allows you to view work that is being delivered by different teams.
Let's roll up work progress from LeanKit to Enterprise One
Alternatively, depending on the use case that is configured for your organization, cards in LeanKit with a specific card type and moved/created in a specific lane will result in a project created in Enterprise One.
#1. Create or move card(s)
If the board you are working in has the Enterprise One icon in the lane title, it indicates that cards of a specific type created in these lanes will result in creation of an Enterprise One project.

In this example, any cards created or moved into the Reviewing and Analyzing lanes with the card type of Epic will result in a new project being created in Enterprise One under the ART Avengers work structure.

Please check with your team lead or administrator to confirm details of your configuration.
#2. Projects are created
Newly created projects from a Team Kanban card will appear on the respective portfolio view to be managed by the project owners as needed. Work progress from all connected cards will roll up to this project for visibility and reporting.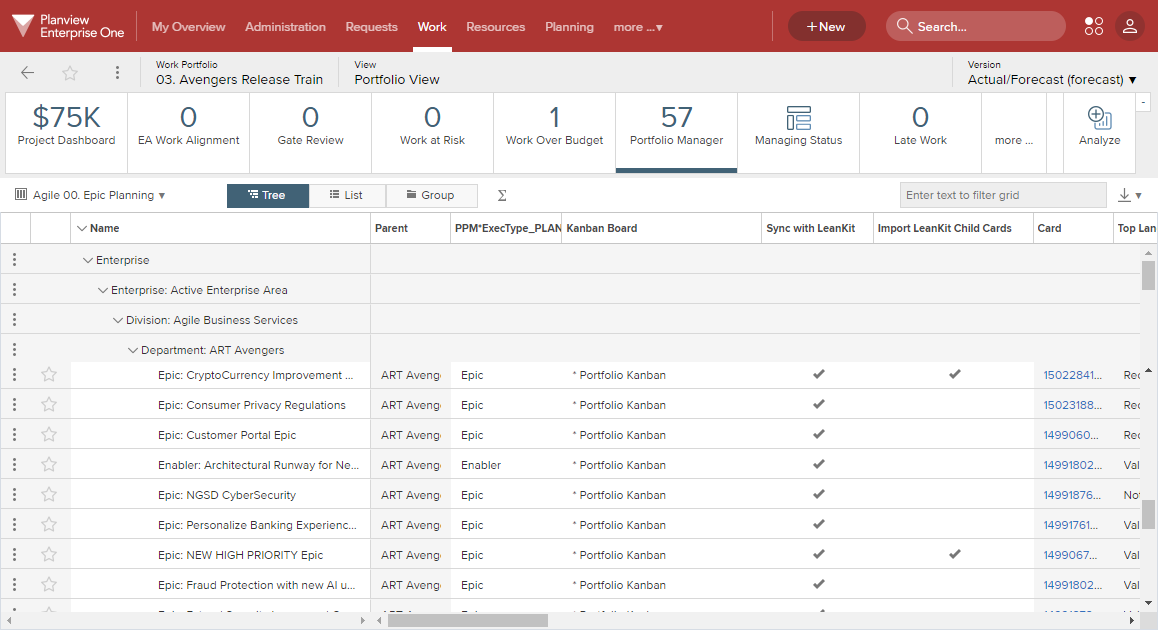 Let's create a new project workspace in Project Teams - powered by ProjectPlace
As soon as the user accounts are activated, users can create workspaces to start work on projects and invite team members to collaborate.
#1. Add activities and milestones to the project plan
From My overview, select Add Workspace.

Next, you can create a workspace from one of the available template or start with a blank workspace.

A Projectplace workspace offers project owners the best of both worlds.

A easy-to-use project plan with an interactive Gantt display.
Kanban boards that complement the project plan, for assignment of work to people.

Use the Create activity and Create milestone buttons to add items to the project plan.

Adjust the dates using either the dates duration columns or directly by dragging, stretching or condensing the Gantt bars.
#2. Assign work items
Go to the Boards tool.
Create board(s) to contain work items (cards) that you need to be assigned to people.
Link activities to the board(s).

Each board can be linked to multiple activities.
But each activity can only be linked to one board.
It is preferred to have fewer boards as possible for maximum visibility.

Use the grouping features to group cards on the board by linked Activity, Assigned, Label, or Due Date.
You can add and reorder the vertical lanes on each board, and provide descriptions for labels.

A quick way to add a card is to click the + at the top of each lane.
Alternately, if you have a large number of cards to add, you can import it from a CSV file.
In the Settings options, you can also activate the board email, so that you can send an email to create a card.
You can also create a card template, so that it can be used to create future cards.
When template cards exist on a workspace, the template selector icon will be visible when you click + to add a new card.
#3. Fill out card details to determine work progress
Click on any cards to view the attributes available to capture information.
Leveraging these attributes to capture key information needed to determine work progress will allow you to quickly focus on exceptions using the filters available on the boards.
#4. Invite team members

Click the Members menu on the menu bard to invite team members.
First, search for registered users.
If the users are not yet an account user, you can use the Invite button to invite the user(s). However, depending on the settings of your account, the Invite user button may not be visible.
Create user groups if you need to manage different access to information. For example, the Project Team group has read-write access to all content, while the Vendor group only has read-only access.
How do I find my assignments and show progress for my work in Project Team - powered by ProjectPlace?
Users invited to collaborate on a project can view all of their assignments and update progress from a single screen - My Overview.
#1. See all of your assignments
From My Overview, you can view all assignments, update your progress, and communicate with your teammates without having to navigate into a workspace.

List of recently visited boards and documents. Click on an item to navigate directly to it.
Workspaces that you have created and workspaces that you have been invited to. Click on a workspace to access it.
All assignments plus items that you are following.

Toggle between My Work and Following to view the items.
Use Group by to organize the items by Due Date, Type or Workspace.
Assignments can be in the form of a card, document review, or personal tasks.
Use the Add button to add personal tasks or a card for an existing workspace.
Click on an item to view its details.
#2. Find information about the workspace
The project Overview is a great place to get a feel on the progress of the project.

The milestones tile shows the progress of planned milestones.
The Risks and Issues tile presents the current state of risks and issues.
The Cards and Activities tiles show progress of done vs overdue cards and activities.

The tile below will display the overdue cards and activities when you toggle between Ongoing activities and Scheduled work.

Tip: ​​Click on an item and the details pane will be displayed on the right for you to make any necessary updates.
#3. View your assignments in a workspace
From any board, group the cards by Assignee and then collapse the lanes.

In this way, you can easily fine the lane with your name, expand it and see your assignments for this board.

Tips: If you are assigned to work items from multiple boards, you can repeat this step on each board, or go to My Overview (group tasks by workspace) to see all assignments on the workspace.
#4. Communicate with team members and show work progress
You can access details of a card from the board, the plan and My Overview.

In the card Details pane, click the + icon to display all attributes and update as needed.
Update the status of the card by either changing the status value, or drag and drop the card to the appropriate lane.
Use the comment area to communicate with your teammates (you can @-ref a specific person, or use @All Members to reach everyone in the workspace).
Let's create a workspace that is connected to Enterprise One
When using Projectplace for Connected Delivery, project managers will first create the project in Enterprise One and select an integrated template to create a workspace in Projectplace. Work progress in Projectplace will automatically roll up to the Enterprise One project
#1. Create a workspace from Enterprise One
The more common use case is to create a workspace using an integrated template that includes the work breakdown structure (WBS), boards, and cards.

The option to select an integrated project template is presented on a screen as part of the project creation workflow.

If time tracking for team members is necessary, select Import PP Assigned Resources as Authorizations to create authorizations on the project based on members invited to the workspace. In this way, members can report time as needed. (This configuration only works when their email addresses are a match between Enterprise One and Projectplace.)
#2. Manage the connected workspace
There are a few differences between a standalone workspace versus one that is connected to an Enterprise One project.
On the project Overview description, the Planview Enterprise One logo will be displayed to indicate that this is a workspace connected to an Enterprise One project.

On the project Plan, the Planview Enterprise One logo is also displayed. In addition, you will notice that the Create activity and Create milestone actions are not available.

This is by design. The project plan will be managed only on the Enterprise One project, but the boards and cards are managed in Projectplace.