FastTrack Integration Solutions
Last updated
Introduction
FastTrack Integration Solutions allow you to automate the import or export of data between Planview Products other enterprise systems. Planview has been providing proven, extensible integrations tailored to your needs for the last 15 years.
Background
Planview has worked with customers to deploye thousands of enterprise integrations to automate flow of information between Planview and your enterprise applications.
Our frameworks and templates embed our experience and best practices into a repeatable format to ensure we deliver the right integration for the right use case quickly and effectively with the highest quality.
The Planview Global Integration Services team will work directly with your team to tailor the integrations to your use cases and requirements.
Enterprise system integrations are configured, tested, deployed and support by Planview, giving you confidence and ensuring you can focus on your business, not building and running integrations.
Deep Experience in Enterprise Integrations
This is a sampling of Enterprise Systems we have build integrations with.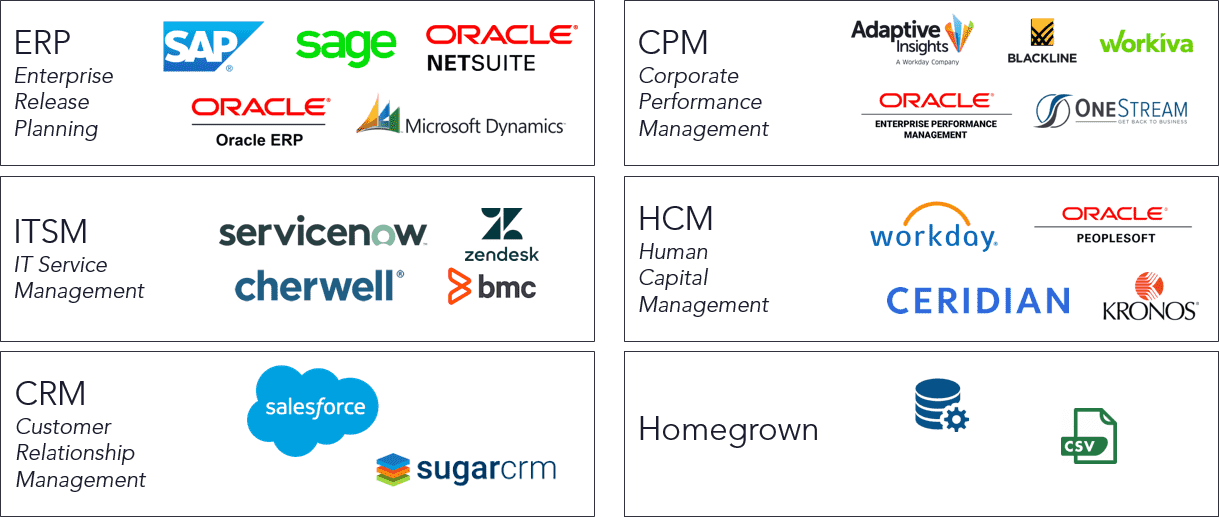 Delivering and Supporting Your IaaS Integration
Specification captures business rules, data mappings, data sourcing, and error handling
Architectural standards ensure quality and supportability are built in
Ongoing customer collaboration keeps you informed and ensures expectations are met
Customer acceptance in your own sandbox to validate use case and delivery
Coordinated roll-out and support
Ongoing service provided through Planview's Integration Center of Excellence
Comprehensive Ecosystem
Learn More about IaaS Integration Solutions
Common Integrations
Explore more details on the most common interfaces we've built. Maybe one or more are right for your organization's needs.
Annual Integration Enhancement Package
Planview Portfolios Data Importers
Planview Professional Services has a set of Data Importers for one-time imports of data for new and expanding customers. Click the link below for more details.