Enterprise One and Connected Projectplace
Last updated
Solution Definition
By combining project portfolio management and collaborative work, organizations can govern and plan key strategic items while giving team members a single, collaborative experience for getting work done. Governed work is controlled at the portfolio level. It is proposed, scoped, planned, and managed in Planview Enterprise One – PRM. Meanwhile team members need a single place to get all work done, be it governed work from the portfolio, non-governed work, or individual items. By using Projectplace for delivery, team members can execute all their work, from tracking individual to-do items and participating in cross-functional work collaboration, to contributing to the governed work required for strategic delivery.
Projectplace provides Project Managers with a single source for keeping track of all project activities, actions, and documentation, facilitating better team collaboration and providing total transparency into priorities, workload for all project team members, and visibility into which resources are assigned to work items. Its flexible workspaces give teams autonomy to decide how they work, and it gives clear visibility into the overall plan and how the delivery of work relates to key milestones. It also surfaces indicators of project progress, blockers, and where work remains to be done.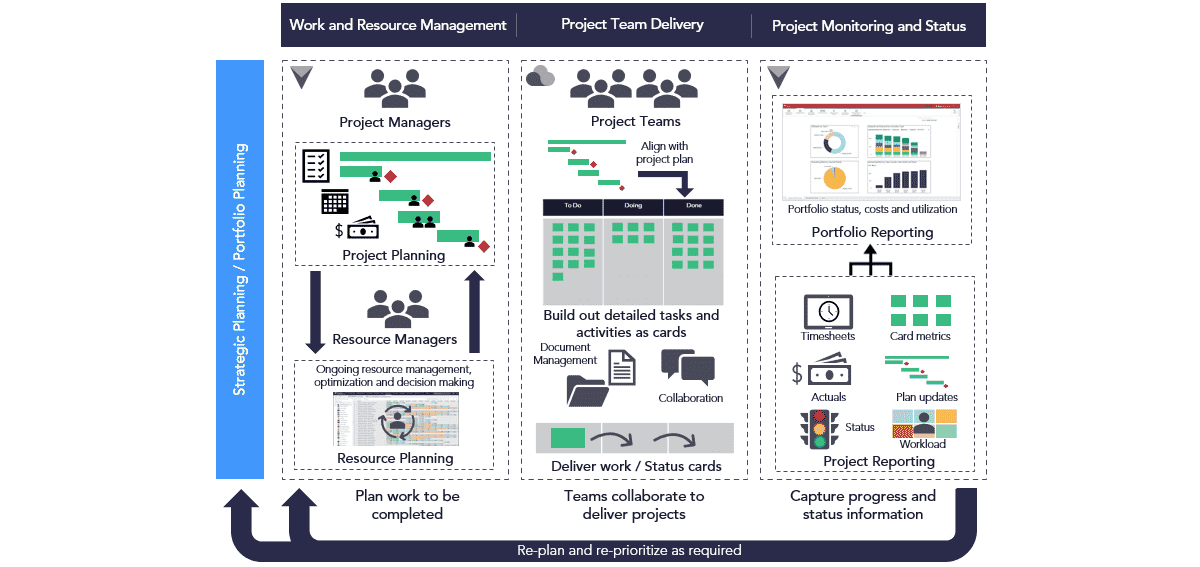 Enterprise One and Connected Projectplace Solution
What challenges does this solution address?
What value does this solution provide?
Unlocking the value of this solution
What do we need to achieve?
At the Portfolio Level

At the Work Delivery Level

Manage the overall timeline, aligned with milestones

Determine project level costs based on resource demand and actuals

Inform staffing decisions to optimize resource pool assignments to work

Understand the status and health of work being delivered

Provide accurate data to inform portfolio prioritization and decisions

Provide the team with tools that help them get work done
Workload balancing within resource teams, empowering teams to manage day-to-day delivery
Effective collaboration practices with all stakeholders
Easy time reporting, at the level of detail that matters
Flow information upwards on project status and progress
How do we achieve this?
Using Enterprise One with connected Projectplace
Traditional project schedules/plans often contain a lot of information; split out into stages, activities, tasks and sub-tasks which can make them difficult to maintain and keep up to date. There is also often very little connection or value between the schedule and the project team's day-to-day activities. These activities are difficult for the project manager to keep track of in the schedule as they are far too granular and subject to change. Instead, they are often captured in meeting minutes, email threads, or even on sticky notes! Consequently, project managers have very little visibility into the progress of these activities and project team members have no clear sight of the schedule or the context of how their individual actions contribute to the project timeline and milestones.
Connecting Planview Enterprise One – PRM with Projectplace provides an opportunity to modernize approaches to project planning.
With the connected Planview Enterprise One – PRM and Projectplace solution, project team members are provided with a collaborative workspace in which to carry out all tasks and activities while also providing them with visibility into the project plan and access to the latest project documents. The progress of their work, represented in Projectplace by cards, flows back up into Planview Enterprise One – PRM as action items visible in the project schedule. Project managers are then able to review these action items, re-prioritizing and re-planning as required.
In having a dedicated workspace in which to manage the lower-level detailed activities while also being able to automatically view the progress of these in the project schedule, project managers are provided the opportunity to "raise the waterline" when it comes to project planning. The project schedule can be used where it directly provides value: for the stages and key activities required for resource profiling, financials and critical path management. Tasks, sub-tasks, and all other collaborative work can be planned and managed as cards on boards in Projectplace.
Combining Enterprise One and Projectplace drives Value
Planview Enterprise One – PRM
Projectplace

Manage data at the level that drives decision making - less granular data to drive data accuracy and value
Simplified and easier to maintain plan is more accurate and valuable for resource management
Less time spent managing the plan to free up time for managing the work and the resources
Apply "Minimum Viable Governance" at the portfolio level
Visibility into delivery; indicators of progress using data flowing from collaboration workspace

Tool that helps the team deliver work - simply
Single source for all project activities, actions and documentation
Facilitates better project team collaboration
Flexible workspace gives the team autonomy to decide how they work
Total transparency of assignees, priorities, workload for all project team members
Clear visibility of the overall plan and how the work delivery relates to key milestones
Surface indicators of project progress, blockers and visibility of remaining activities
Manage the governance of deliverables
Outputs, Reports and Analytics
This solution is supported by the following screens, reports and analytics.
Output Type
Output Name
Output Audience
Description

Work and Assignments

Pivot View: Schedule and Backlog

Project managers

Project managers should use this pivot view to view and manage actions from the Projectplace workspace (Projectplace cards flow back into Planview Enterprise One – PRM as action items). Project managers can:

View the action item (card) progress and status to understand if the project is on track and identify any impact to the current plan
Use this information to inform any action re-prioritization and use this to inform any required plan updates
Detailed Business Process Flow
Click or hover over a process step for more information.