Innovation Management
Last updated
Definition
Innovation Management is the process of engaging a team/community in the processes of Collaborative Discovery to find new value and Collective Decision Making on work to be done.
Collaborative Discovery is the practice of working together to generate new ideas, concepts, opportunities, and solutions. Collaborative Discovery can be done on its own, or in combination with Collective Decision Making.
Collective Decision Making is the practice of aggregating more individuals' perspectives to arrive at agreement while reducing bias and increasing objectivity and acceptance of the outcome. Collective Decision Making can be done on its own, or in combination with Collaborative Discovery.
Business Outcomes
Solution Capabilities
Work Delivery: Provide team members with the right tools to suit their way of working. Project team members can collaborate/get work done in project-specific workspaces while Agile teams can plan and execute using customized Kanban boards.
Flexible Capacity and Resource Planning: Evolve capacity planning as organizational focus shifts from managing resource utilization to enabling teams to deliver customer value.
Portfolio Prioritization and Funding: Plan portfolios based on outcomes and benefits and the funding of programs and epics. Realign quicker as priorities shift and funding aligns with sources of value.
Portfolio Visibility: Measure portfolio progress by capturing the right KPIs to quickly identify the need to pivot, adjust funding/capacity, or pull back.
Governance: Establish the right level of governance for the work being delivered, whether stage-gates/quarterly check points for programs or lean guardrails for more empowered teams.
We can:
Surface customer insights, observations, and needs.
Identify and articulate problem areas and opportunities.
Create new ideas to generate new business value.
Enable communities of any size/type to collaborate effectively.
Improve the efficiency of the ideation process.
Enable user-driven team collaboration without administrative involvement.
Measure community engagement/activity.
Improve the efficiency of the selection process.
Reduce bias and increase objectivity in prioritization and decision making.
Collaboratively estimate cost, time and revenue for producing new solutions.
Track idea implementation progress and the pipeline of value created from innovation.
Improve the likelihood of successful innovation.
Process Flow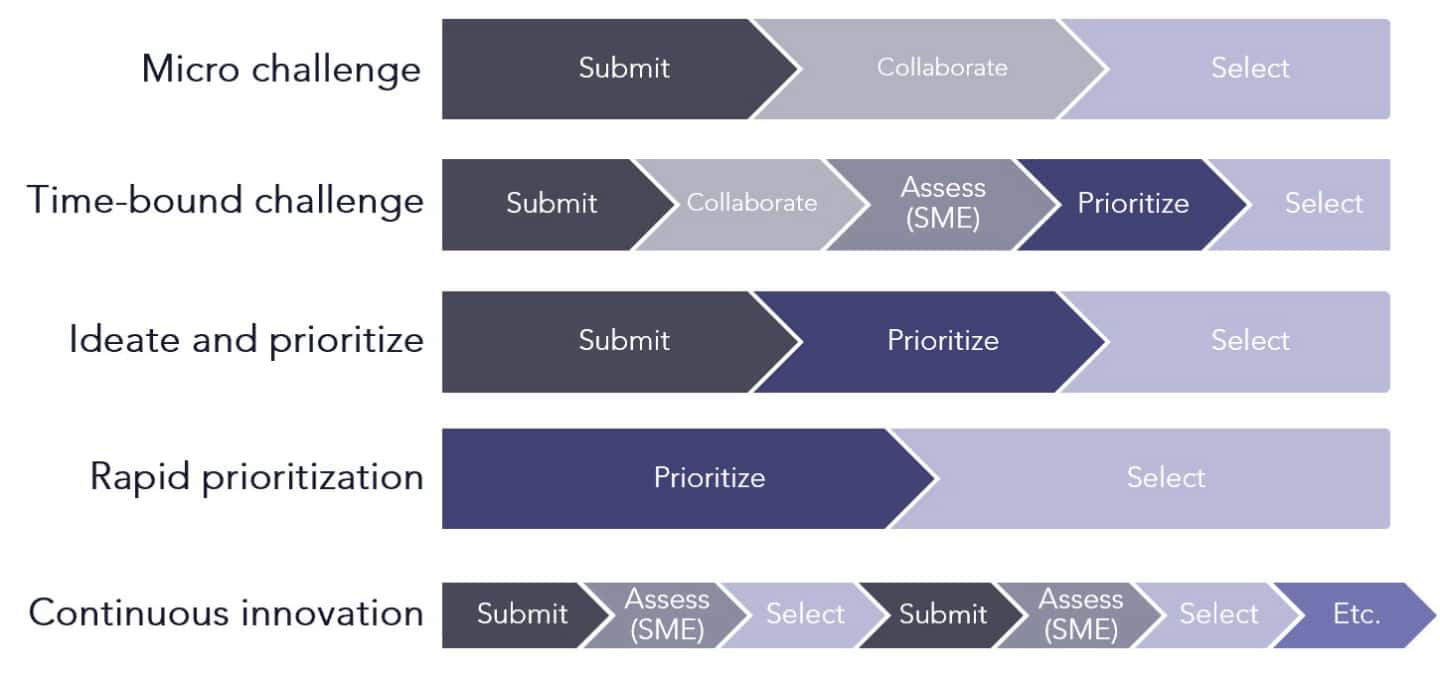 Situational Variables for Process Flow
Sequence order
Timing of launch, phases, closing
Participation – who does what
Visibility – who sees what
Screen submissions prior to publication
User tasks or approvals
Use Cases
| | Project | Program | Agile | Lean |
| --- | --- | --- | --- | --- |
| New Product Ideas | ✓ | | | |
| Funding Applications | | ✓ | | |
| Spending | | | | ✓ |
| Process Improvement | | | ✓ | |
| Backlog Prioritization | ✓ | ✓ | | |
| Project Requests | ✓ | | | |
| Project Prioritization | ✓ | | | |
| Risk Identification and Mitigation Ideas | ✓ | ✓ | | |
| Implementation Ideas | ✓ | ✓ | ✓ | ✓ |
| Resource Selection | ✓ | ✓ | ✓ | ✓ |
Additional Use Cases
Innovation: Contests, share proven innovations, success stories.
Operations: Best practices sharing, Q/A, cost efficiency, continuous improvement, internal capital funding.
Business Development: Opportunities, partnerships, strategies.
Product Management: New concepts, enhancements requests, customer voice, go-to-market plans.
PMO: PI planning, problem identification and scoping, project value tracking.
Agile Transformation: Portfolio or backlog prioritization, risk identification and mitigation, OKR or KPI development, PI Planning, opportunities, epics, visions.
Best Practices
An Innovation Event can be a complex, sequential series of actions around posted ideas, in response to a corporate-approved Challenge Question. By contrast, an Innovation Event can also be a simple, spontaneous outreach amongst one's peers to solve an immediate problem. The following Best Practices illustrate opportunities for Collaborative Discovery and Collective Decision Making in an Innovation Management Solution.
Managing Your Innovation Program
Top 10 Tips/Best Practices for Hosting a Challenge
Find the right sponsor: Someone dedicated to solving an important opportunity and willing to advocate for the challenge and follow through with the ideas.
Ask the right question: Something that is owned by the sponsor and is aligned with the strategic objectives of the organization.
Invite the right audience: The more the better. Diversity in thinking is an innovator's best friend.
Moderate the conversation: Active moderation helps build ideas, connect people to ideas, and keeps the crowd focused on the challenge topic.
Evaluate the ideas: Subject Matter Experts (SMEs) should evaluate the crowd-nominated ideas, to ensure they meet the sponsor's criteria for success.
Communicate: A well planned communication campaign drives overall participation and engagement on the desired behaviors and goals.
Recognize excellence: Provide recognition for participants that go above and beyond with their activity levels and quality of content.
Monitor the challenge: Check idea graduation rates and participation levels often; which can help determine needed adjustments to graduation criteria and communications.
Take action: Do something with the selected ideas to build credibility and demonstrate value to all stakeholders.
Follow up: Let the audience know what's happening with the selected ideas, so it doesn't turn into a black hole suggestion box.
Outputs, Reports, and Analytics
This solution capability is supported by the following outputs, reports, and analytics.
| | | |
| --- | --- | --- |
| Type | Associated Outputs, Reports, and Analytics | Description |
| Report | INN01 - Challenge Activity | Contains an overview of each challenge and community that is present within a Spigit instance.* |
| Report | INN02 - Ideas | Contains all idea activity visualizations for each challenge.* |
| Report | INN03 - Idea Activity Breakdown | Displays key idea metrics which each challenge uses to prioritize ideas.* |
| Report | INN04 - Idea Closure Fields | Summary of all idea closure form fields that are configured. Enables a user to list ideas closed per challenge along with corresponding values from that challenge's idea closure form.* |
| Report | INN05 - Idea Closure Fields Numeric | Represents the idea closure fields that contain numeric estimates.* |
| Report | INN06 - Idea Custom Fields | Provides an out-of-the-box search and filter capability for all idea template custom fields that are in use.* |
| Report | INN07 - Idea Voting Breakdown | Shows which users are prioritizing which ideas.* |
| Report | INN08 - Pairwise | Offers a breakdown of the Pairwise voting feature. Contains a combination of idea and Pairwise voting dimensions including Idea ID, Idea Title, URL, Total Pairwise Up Votes, Total Pairwise Down Votes, Total Pairwise Skip Votes, and the Pairwise Ranking.* |
| Report | INN09 - Review Responses | Provides insights into the breakdown of the review field responses for any review field in the challenge. Shows the breakdown of responses per idea based upon review form fields.* |
| Report | INN10 - Tasks | Visualization 1 shows the breakdown of individual tasks that are assigned to ideas within the chosen challenge or community. Visualization 2 shows a simple breakdown of reviews and ideas only. Visualization 3 demonstrates the average score obtained for each of the review fields that are present in the challenge, illustrating a high level view of strengths and weaknesses associated with the different quantitative fields in the review forms.* |
| Report | INN11 - User Activity Overview | Shows a visualization that represents users that have participated in the challenge.* |
| Report | INN12 - User Custom Fields | Shows the overview of users listed in the Spigit application and all of their user attributes.* |
| Output | INN17 - OData/Power BI Desktop Custom Reports | Data export feature, which provides for the configuration of customized reports via Spigit's OData Connector to Power BI Desktop. |
| Output | INN18 - OData/Tableau Custom Reports | Data export feature, which provides for the configuration of customized reports via Spigit's Tableau Web Connector, using Power BI Desktop. |
| Output | INN19 - Excel Custom Reports | Data export feature, which provides for the configuration of customized Excel Reports via Spigit's Excel Connector and the Excel PivotTables functionality, using Power BI Embedded. |
| Report | INN20 - Dynamic Idea Report | Gives an in-depth snapshot of submitted ideas, including customized idea template fields, and idea engagement metrics (votes, comments, ratings, reviews).** |
| Report | INN21 - Dynamic Review Report | Displays all completed reviews and tasks. Shows the current idea review rating during the Expert Review Phase of the Challenge.** |
| Report | INN22 - Idea Selection Report | Provides all the data needed to consider whether an idea should be moved to Successfully Implemented. Used when conducting the final review of ideas at the end of the challenge, when meeting as a group, to determine final successful ideas. Can be used to facilitate an effective selection meeting.** |
| Report | INN23 - Idea Tracking Report | Shows all ideas closed successfully. Tracks idea details that have been selected for implementation.** |
| Report | INN24 - Ideas Activity Report | Shows all ideas' graduation criteria fields and how close they are to reaching the threshold set for graduation to the next stage. Used towards the end of a phase to see if any ideas should be manually moved to the next stage.** |
| Report | INN25 - Moderator and Expert Activity Detail Report | Lists the activity of all moderators and experts within a given date range.** |
| Report | INN26 - Private Comments Report | Lists any ideas that have had Private Comments posted by either an Administrator or Moderator.** |
| Report | INN27 - Rapid Report | Provides a holistic picture of the activity around top ideas. Displays Pairwise ranking, idea stats, and review scores. Used to compare ideas and where they were ranked by the crowd and review team.** |
| Report | INN28 - User Task Report | Tracks who has been assigned tasks, which are outstanding, and which have been completed during Expert Review phase.** |
| Report | INN29 - Users with no Activity Report | Lists users who have not taken any action since a given date.** |
*Standard Report in Insights/Power BI.
**Legacy Excel Report. Available but no longer supported as of 4/30/2021.